Come work with us!
Brown Dog Coffee Company is a local staple for coffee lovers. Roasting with care, Brown Dog offers a variety of whole bean coffees, prepared coffee and tea, custom beverages, pastries, and soups as well as a full catering menu. If you love coffee, here's your opportunity to be a part of an outstanding team that warms our community. We look forward to hearing from you.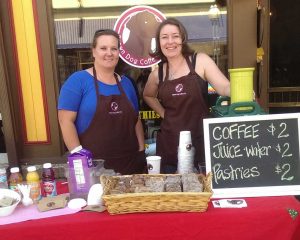 Please note: currently, we are looking for individuals who are hardworking, efficient and ready to learn about coffee, tea, and our processes for serving excellent coffee and products. We also require availability on the weekends and a commitment of at least one year. Please do not fill out this application if you do not meet these criteria. Please stop by the shop if you'd like to pick up an application in person, or download and print the form below.
Buena Vista, Colorado location application
OPENINGS IN BV
Shifts are 12-7pm or 2-7pm with availability on weekends & a summer commitment required.
Download the application for the Buena Vista location.
Please fill out the PDF form application. Submit the form to us below. Please follow up with us to make sure we have received your application.